Is there stronger evidence available?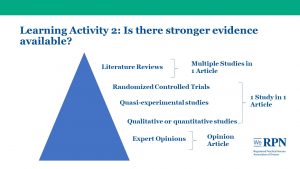 Go back to the literature and find 2-3 additional strong prime research articles (e.g. RCT or literature review) to support your research question.
Use your search strategy from Week 4
Find two to three additional research articles on your topic (Prime articles). You will now have a total of 4-5 prime research articles.
Fill out the research tool from module 3 for two articles and submit.
You now have 4-5 prime articles on your research question
Attachments:
You must be
logged in
to view attached files.